The perfect remedy for a long day is sinking into your warm, inviting bed and letting any stress slip away. To complete the ambiance, your bedroom floor should be just as soft and snug as your bed itself. Whether in a master bedroom, a guest room, or kids' bedrooms, carpet is the ideal flooring choice for a pleasant texture, calming environment, and lasting performance. Flooring America is here to share our best carpet ideas for bedroom flooring to create a cozy, carpeted bedroom sanctuary.
Why Choose Carpet for the Bedroom?
Nailing a cozy aesthetic and relaxed feel is important for a restful night's sleep. This comes naturally with carpet's soft texture and inviting look. Because carpet is inherently insulating, you'll be greeted with a soft, warm touch when your feet hit the floor first thing in the morning. Plus, no one is in danger of taking a tumble since they're non-slip. Carpets also help dampen sound so that your bedroom becomes a quiet space perfect for uninterrupted sleep.
Additionally, these fibrous carpet materials capture dust, dander, and other common allergens so your family can breathe easier with improved air quality. With so many affordable options, you can enjoy stylishly stain and water-resistant carpets that perform well in homes with small children and pets. Lastly, carpets come in a variety of styles that are guaranteed to fit your bedroom's unique flair.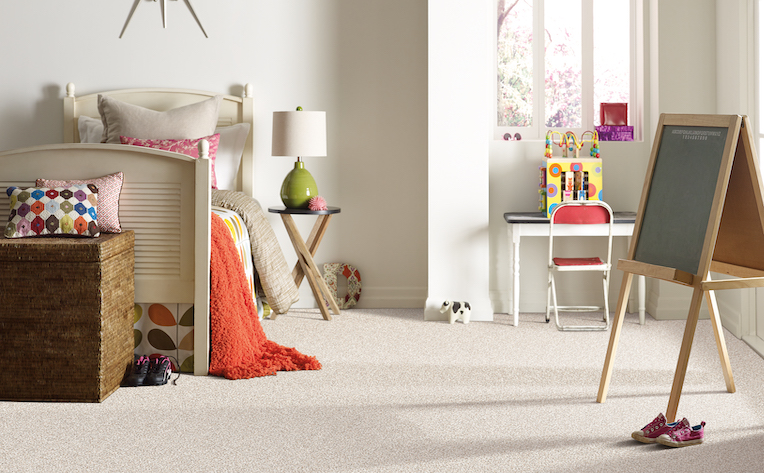 Consider the Types of Bedroom Carpet Material
When it comes to picking out a type of carpet fiber for your home, take into account the amount of daily foot traffic, what kind of spills and stains could potentially occur, and, of course, your budget. With so many choices, it's totally normal to feel overwhelmed when trying to find the perfect fit. Consult with one of our experts to confidently choose your best carpet match. Now, let's dive into the four main types of carpet fibers:
Wool Carpets: Naturally elastic, sheep wool carpets can withstand the test of time, even in high-traffic areas. Soft woven wool carpet is typically more expensive than the other carpet options listed below. However, this luxurious material remains a popular choice due to its long-lasting durability and soothing neutral hues.

Nylon Carpets: As the most durable synthetic carpeting option, nylon is stain-resistant and holds the color of the carpet well. This is the most popular type of carpet fiber on the market today.

Polyester Carpets: Vibrant colors won't fade with this soft-to-touch hypoallergenic carpet material. Whether you desire a neutral contemporary look or a bright patterned carpet, you'll enjoy the charming aesthetic and pet-friendly performance that polyester carpet brings!

Olefin Carpets: While the other options listed above fare better in terms of durability, don't write off this type of carpet fiber. Olefin is stain and moisture-resistant for a worry-free, oops proof bedroom floor.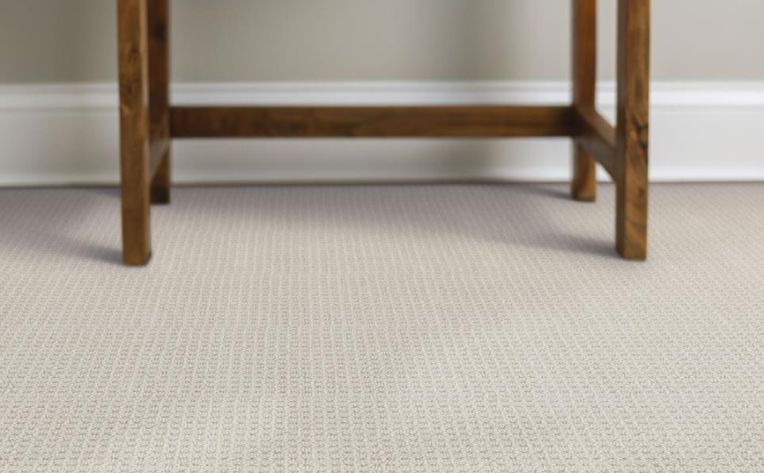 Bedroom Carpet Ideas Based on Your Design Style
Once you've chosen your favorite material, think about the style of your bedroom. You will want bedroom flooring that complements your existing design but still elevates the level of comfort. Whether you want an open airy feel, an eclectic pattern, or a moody vibe, you can achieve a variety of bedroom interior designs. Here are some of our top suggestions:
Keep it Simple with Understated Neutrals
If you like to frequently change up your room or prefer a more muted look, neutral carpeting is the way to go. You could also go with a textured style for your neutral carpet to help diversify your flooring from other rooms in your home.
Infuse Personality with Colors & Patterns
Want to push the envelope even more? Don't shy away from patterns or bold, bright colors. While definitely louder options, colors and patterns can make your space feel more authentically you. At the end of the day, your bedroom is your home within your home—mark your territory by allowing the area to capture your personality.
Think About Spacing
You'll also want to consider the amount of space that your bedroom furniture occupies. To enlarge a small room with carpeting, we recommend choosing between either a pale color, which can make your space look brighter, or linear stripes, which give the illusion of a longer room. If you feel swallowed in your large room, we recommend looking at a variety of darker carpet colors and patterns, which can help make your bedroom feel smaller and more intimate.
Accent with Area Rugs
If you love the idea of bedroom carpeting but aren't ready to fully commit, or if you already have carpet and are looking to upgrade your interior scheme, consider adding an area rug to your bedroom. This statement area rug can help create an inviting space and homey feel while achieving the beloved soft feeling of carpet.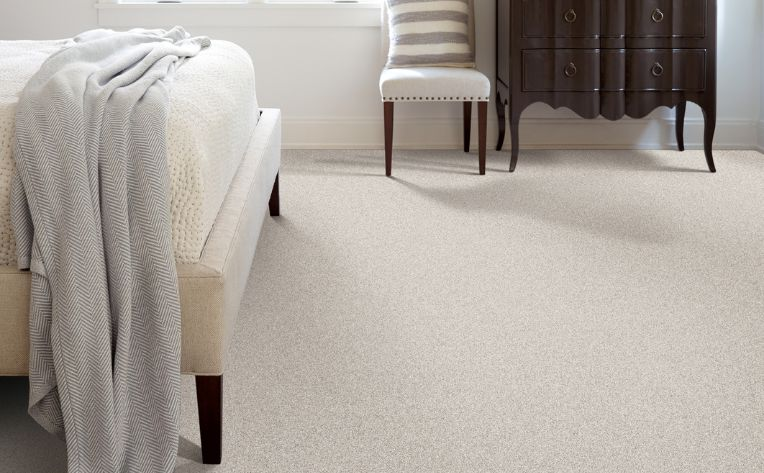 Find Cozy Bedroom Carpets at Flooring America
Achieve the look and feel of a pleasant, homey bedroom with plush carpets. You'll enjoy getting in and out of your bed almost as much as sleeping in it! Envision your comfy bedroom carpet by using our Room Visualizer Tool or one of our other online design resources. No matter your bedroom carpet vision, Flooring America can make it happen. Visit your local Flooring America store today to browse bedroom carpet options!