In the realm of interior design, it's often the subtle nuances that breathe life into your kitchen wall or bathroom sink. Think about the captivating allure and elegance of a well-chosen backsplash tile pattern.
With some careful planning and a creative, exciting design process, you can add a splash of character and claim precious wall space with an eye-catching backsplash that's as functional and durable as it is fashionable.
The result? A functional wall and stylish backsplash that effortlessly harmonize with your aesthetic vision. Explore kitchen backsplash ideas and bathroom backsplash ideas to elevate your home's interior design.
Morocco Fawn Arabesque Gloss Mosaic Ceramic Emser Tile
What is Backsplash Tile?
A tile backsplash is a versatile element typically used to bridge the gap between kitchen or bathroom cabinets and the countertop, extending horizontally along the entire length of the cabinets to the countertop.
In the past, backsplashes varied from modest segments above farmhouse sinks to the mosaic tile-style designs popular before the 2000s, often coordinated with the design patterns of your kitchen's flooring.
In a modern context, tile backsplashes serve as focal points in these frequently used areas of the home. They introduce intriguing textures, harmonious color palettes, and captivating artistic elements to elevate the overall ambiance of a space.
H2O Fawn Mosaic Glass Emser Tile
What Are the Best Tiles for a Backsplash?
Ceramic, porcelain, cement, brick, stone, marble, and even glass tile are all common materials for today's backsplashes.
Determining the best tile for a kitchen backsplash is a matter of preference and willingness to experiment. Whether you're looking to compliment your rustic farmhouse kitchen with natural stone tiles under the oven hood and countertops or you're hoping to elevate your bathroom with sleek marble tiles in the shower, tile backsplashes can easily enhance your home design and make for a great focal point in your space. However, there are some things worth knowing in the search for your home's dream tile.
It's crucial to recognize that not all tiles come with the same price tag. Tile prices are typically calculated per square foot and can fluctuate depending on the material. Materials like stone and marble tend to be more costly, but a savvy and deliberate approach to shopping can help you achieve the desired look within a budget range that suits your comfort zone.
Here are some tips to keep in mind when shopping for a backsplash:
The Look of Marble for Less
To achieve the luxurious look of marble without breaking the bank, savvy homeowners can opt for a budget-friendly alternative. Consider selecting glazed porcelain tiles with a high-gloss coating over their surfaces. This choice not only emulates the elegant aesthetics of genuine marble but also provides a cost-effective solution for your interior design aspirations.
Porcelain and Ceramic Tiles
These types of tiles have many options to take your kitchen from traditional to contemporary, making them a popular choice. One of the key advantages of porcelain and ceramic tiles is their durability. They are known for their toughness and resistance to wear and tear, making them an ideal choice for a kitchen environment where they'll be exposed to heat, moisture, and daily use.
Plus, porcelain and ceramic tiles are resistant to stains, and their smooth, glazed surfaces are simple to clean. With these tiles, you can be confident that your kitchen backsplash will not only look unique but also stand the test of time.
Stainless Steel and Natural Stone
Natural stone offers a wealth of warmth to your kitchen space. When paired with stainless steel, these materials can create a one-of-a-kind look. These types of tiles are not only well-known for their ability to adapt to various kitchen styles, but they also offer durability and easy maintenance, making them a practical choice for busy households.
Mosaic Tile
Mosaic tile packs in smaller patterns and seemingly offers more bang for your buck. Depending on the range of materials, this can be an easy way to turn your kitchen space into a work of art. Whether you envision a subtle and elegant backsplash or a bold and vibrant focal point, mosaic tiles can cater to your creative preferences.
Sheet Glass
A trend that has been growing in popularity as a great material for the kitchen backsplash is sheet glass. Sheet glass is very low-maintenance and incredibly easy to clean, which helps tremendously in an area of the home sure to see its fair share of spills and splashes. Glass can add a lighter look to your space and complement any style.
Wood
While this material is not typically used as a traditional backsplash, it can be used to establish a rustic aesthetic. However, as might be expected, it will make a less functional backsplash without proper care, sealing, and enhancements and may require some additional research to know what varnish to use for your intended effect.
How Much Does It Cost to Install Backsplash Tile?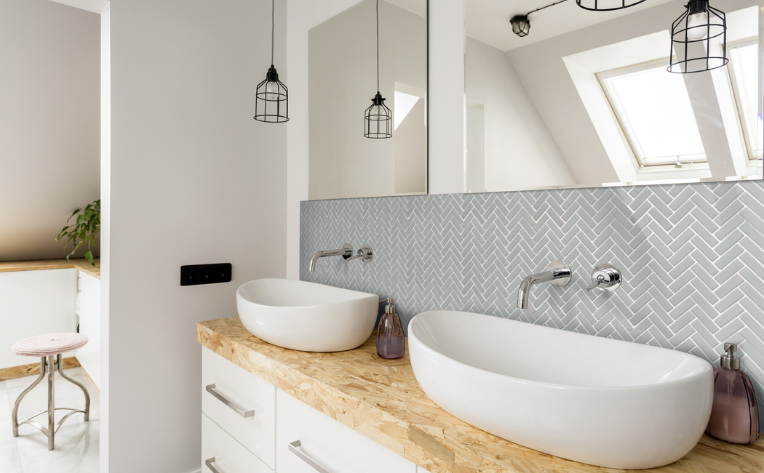 Impact Gray Herringbone Mosaic Porcelain by Emser Tile
How much a backsplash installation costs will depend on the square feet used to protect your painted walls, but bear in mind that kitchens come in all shapes, styles, and sizes with awkward angles, making professional installation costs subjective.
In general, marble, ceramic, and porcelain all offer a range of versatility in design, well-suited to evergreen backsplash design styles like subway tile and tiling. Play around with grouts to change and match the mood of the kitchen backsplash when working with these materials, which can offer a dark glow or further enhance the brightness of the backsplash, especially when working with whites.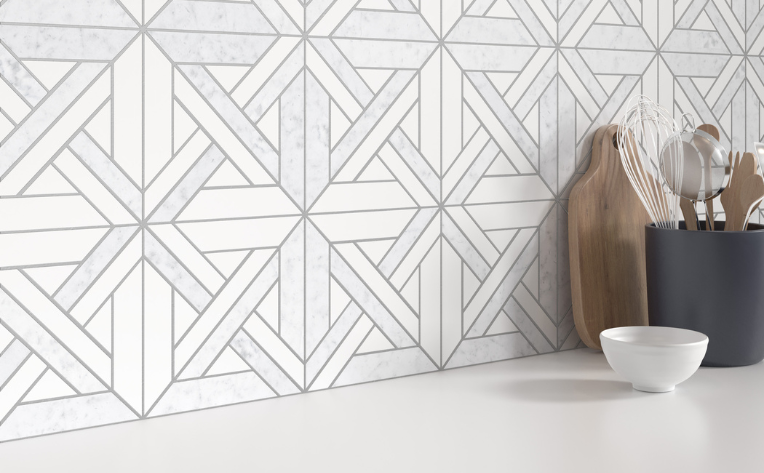 Alluro Silver Castle Polished Mosaic Emser Tile
When selecting the best tile for your backsplash, it's always worth considering what your design goal is. With the modern all-white kitchen trend, simple colored subway tiles can work to add a fresh pop of color and a focal point to your space without overwhelming it. If you're looking for a more elaborate design, like a hand-painted Moroccan-style backsplash, you'll want to weigh heavily what material produces the effect you want and will keep you satisfied for years to come.
Kitchen and Bathroom Backsplash Ideas
The home base for most backsplashes will be a kitchen, especially surrounding sinks, kitchen cabinets, kitchen countertops, and stoves. Practically speaking, the backsplash protects the wall from water stains and damage—or marks from tools and cooking gadgets that live in the cabinets and on the kitchen counter.
Still, many creative locations make sense to add a backsplash. Tile or brick backsplashes can be added to bathrooms, behind toilets and sinks, and even on walls surrounding showers. Recently, there has been a trend to install backsplashes on the ceiling to clearly define a shower alcove and to prevent water damage.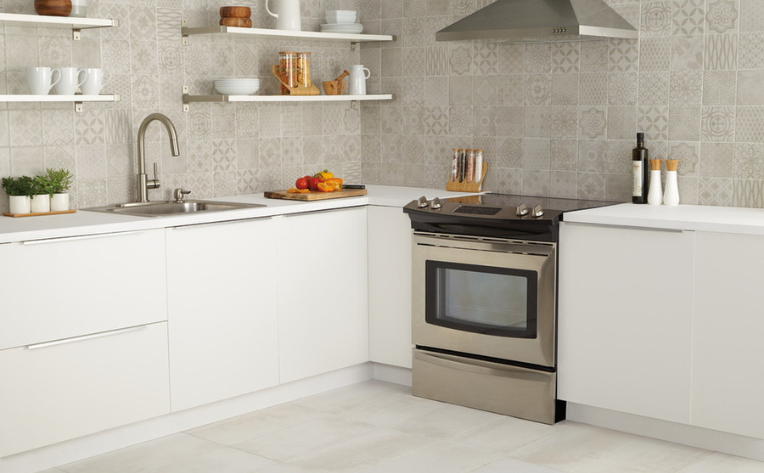 In spaces where you want to try an unconventional approach to shaping a space with tiling, or rein in the effect, try using clearly defined borders. This can create visual interest and a sort of rail for the eye to follow to contain the tile material and to ensure tiles are placed at an even level in the actual tiling process.
Where exactly should you put backsplash tile in a kitchen, though? In general, tile backsplashes will serve as an approach to coloring in the lines of the kitchen's busiest area, easing anxieties by being a protective barrier while also "wowing" yourself and others as a statement piece for the room.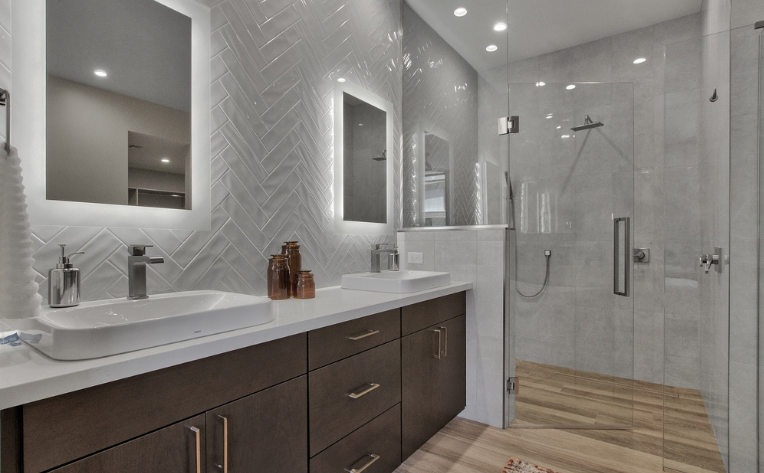 Legacy Havana Porcelain Emser Tile
Whether you're looking to revamp your current space or embark on a new home improvement project, understanding the world of backsplash tile is essential. To find the perfect fit for you, explore Flooring America's tile catalog, where you'll find a wide selection of tile to create the perfect backsplash for your home.
To delve deeper into the world of interior design, home improvement tips, and the latest trends in flooring and tiling, be sure to visit our design blog.