Looking for the best ways to increase the property value of your home without breaking the bank? From small remodeling projects to strategic cosmetic upgrades, there are numerous components that can effectively double the value of your property.
At Flooring America, we believe that intentional and budget-friendly home improvements can have a significant impact on your home's value. We are here to share valuable insights and tips to help you enhance the value of your home for a successful sale!
Start with Functional Home Improvements & Repairs
To maximize the value of your property, it's crucial to address any neglected or dated areas of your home. Leaky faucets, creaky floorboards, cracked countertops, damaged walls, and more can be hurting your chances of receiving top dollar. Prospective buyers seek a well-maintained home where everything functions smoothly, including everything from the roof to the appliances and door hinges. It's important to fix any major functional issues and pay attention to small finishes to provide a good first impression and increase home value.
Pro tip: It doesn't hurt to add energy-efficient appliances like refrigerators, washers, dryers, and dishwashers to your list of home improvements. These functional add-ons reduce electricity consumption to decrease monthly spending and increase overall home value.
Increase Your Home Value With New Flooring
When it comes to determining the value of a property, flooring plays a crucial role in one of the major upgrades you can make to your home. The type of flooring you have throughout your house can significantly increase its worth by a few thousand dollars. Hardwood flooring, in particular, is highly sought after by prospective buyers due to its timeless appeal and lasting value. However, other flooring options like tile and luxury vinyl can also contribute to an increased resale value. Consider the following types of flooring for your home renovations:
Hardwood Flooring
​​
Choosing hardwood flooring when selling your home is a smart move, as homebuyers are captivated by its timeless style and natural beauty, while the ability to refinish certain hardwood types allows new owners to personalize it according to their preferences, making it a valuable and customizable asset.
Tile Floors
Jasmine White Res Tile by Daltile
Incorporating waterproof tile flooring, such as ceramic, stone, or porcelain, can greatly increase the worth of your home. These attractive and durable options not only provide a long-lasting solution but also appeal to potential buyers, enhancing the overall desirability and worth of your property.
Laminate Floors
Laminate flooring offers a budget-friendly yet high-impact solution to increase your home's value. With its ability to replicate the natural beauty of wood, easy maintenance, and durable qualities, laminate flooring appeals to homebuyers while remaining pet-friendly
Luxury Vinyl Floors
Luxury vinyl plank or luxury vinyl tile flooring, offers an affordable, durable, and low-maintenance flooring solution that's quick and easy to install. Its ability to replicate the elegance of wood or stone at a budget-friendly price, coupled with its exceptional performance and moisture-resistant properties, will undoubtedly captivate potential buyers, making luxury vinyl a wise investment.
Carpet
Carpet is an affordable and effective way to create a cozier ambiance in your bedroom or living room, ultimately increasing the appeal and value of your home. With a wide selection of neutral styles available, you can easily find a carpet that complements your space, while pet-proof and stain-resistant carpet fibers offer practicality and durability that homebuyers value.
Embellish Your Home's Exterior for Maximum Curb Appeal
Don't overlook the impact of your home's exterior on its overall value. Keeping your yard well-maintained through pruning, limbing, and thoughtful landscaping is essential to create a beautiful curb appeal that matches the interior charm, all that can be done without a professional landscaper. Additionally, consider upgrading your front door to a welcoming and visually appealing entryway. A freshly mowed lawn, colorful flowers, trimmed shrubbery, a beautiful front door, windows to bring in natural light, and an overall tidy appearance of your outdoor space can make a significant difference in boosting the value of your home for future buyers.
Choose Neutral Interior Designs for Improved Home Value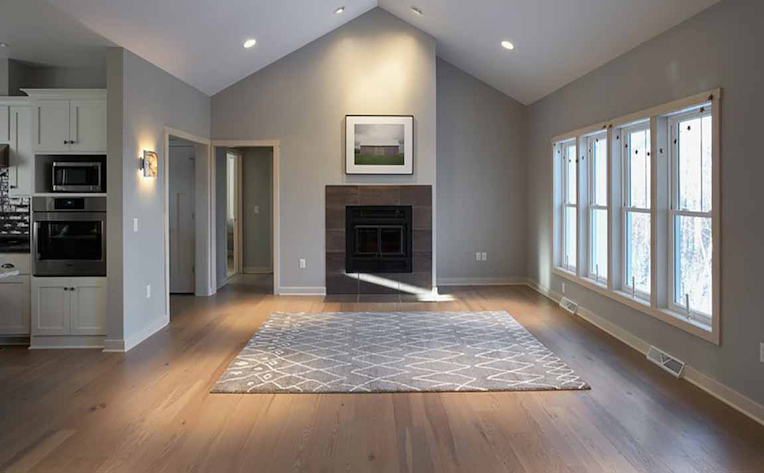 An easy way to up your home value is with a fresh coat of neutral interior paint colors. Whether it's in your master bedroom, your dining room, or any other additional living space, utilizing soft, neutral hues allows you to create a blank canvas that lets future buyers envision their own personal touch without being overwhelmed by bold or jarring colors.
This approach maintains a timeless and sophisticated aesthetic that appeals to a wide range of tastes and preferences. Neutral paint colors, such as whites, off-whites, soft greys, and light beiges, are very important for creating a universally appealing atmosphere and will ultimately pay off with a higher home value and a higher asking price.
Achieve Maximum Home Value with Flooring America
Ready to sell? When it comes to increasing your home value, Flooring America is your trusted partner! From hardwood floors that exude timeless elegance to waterproof and low-maintenance options like luxury vinyl and laminate, we have the expertise to help you make the right flooring choices that will impress your real estate agent and help your future home buyers become move-in ready.
Combine that with our insights on the importance of landscaping, enhancing curb appeal, and selecting a fresh coat of paint, and you'll have a winning formula for maximizing your property's worth and refreshing your home to look like a new space. Contact your local Flooring America to start creating a space that captivates future buyers and stands out in the real estate market!